All the Goodness Rustic Veggie Soup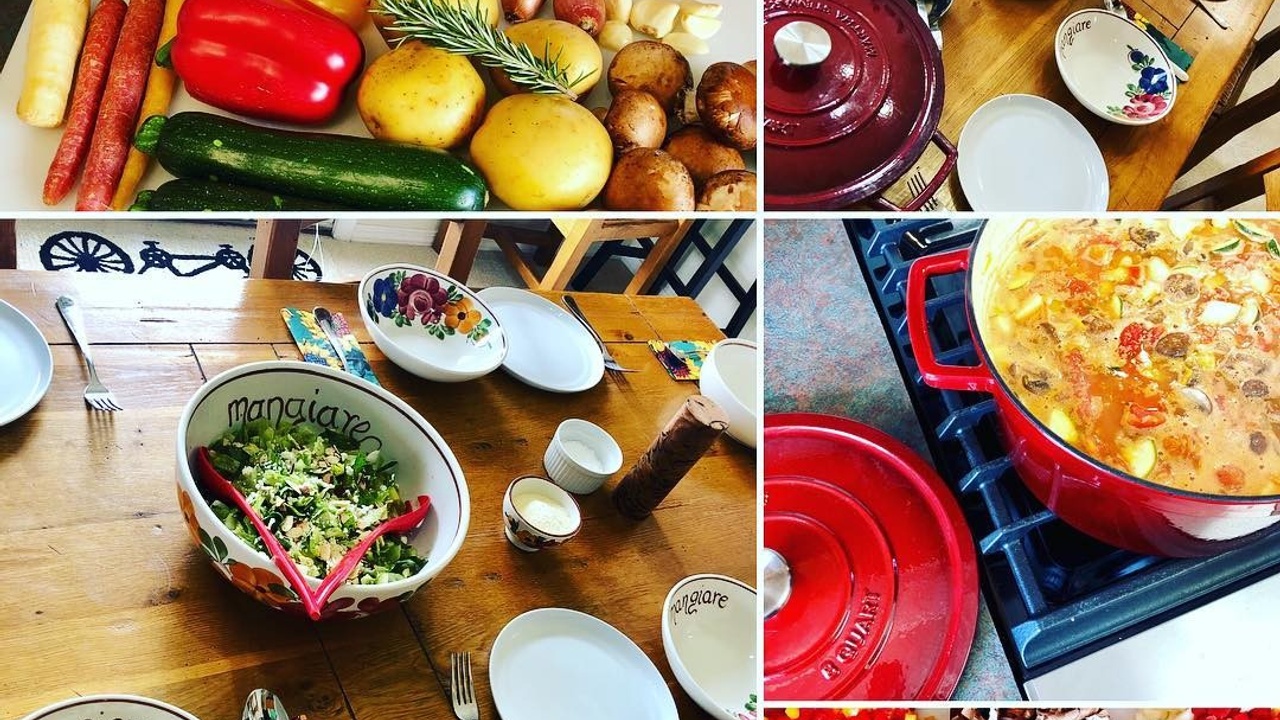 One pot and all the yumminess in one of my favorite soups— and it's the perfect, hearty, healthy, warm-your-soul goodness in a bowl! I first tried this recipe at a friend's house and jotted the recipe down from one of her cookbooks, but can't remember which book.
Warm up a crusty loaf of bread to serve on the side after a long outdoor adventure! I always love to bust out my favorite bowls for this one—Bon appetit!
Ingredients:
3 tbs. extra-virgin olive oil
6 cloves garlic, minced
2 large shallots, chopped (about 1/2 cup)
1/4 tsp. red pepper flakes
1 yellow onion, chopped
1 tbs. finely chopped fresh rosemary
1 tbs. dried oregano
2 carrots, peeled and chopped
6 ounces cremini mushrooms, quartered
1 red bell pepper, seeded, deribbed, and cut into 1/2-inch dice
8 cups reduced-sodium chicken broth (or veggie broth if you prefer)
1 28-ounce can peeled whole plum tomatoes, preferably San Marzano, crushed by hand, in juice. Do this in a bowl on the side until pieces are about dime-sized. Watch out for squirting juices! :)
2 cans (15 ounces each) cannellini beans, rinsed and drained
2 zucchini, cut into 3/4-inch dice
4 small unpeeled Yukon Gold potatoes, cut into 3/4-inch dice
3 cups (3 ounces) baby arugula
1/2 cup freshly grated Parmigiano-Reggiano, plus more for serving
Kosher salt
Freshly ground black pepper
Directions:
Heat 3 tbs. of olive oil in a heavy soup pot over medium heat. Add garlic and cook, stirring until fragrant, about 1 minutes. Add the shallots and red pepper flakes and continue to cook, stirring, until shallots are translucent, about 1 minute.
Stir in the onion. Cook, stirring until softened, about 4 minutes. Stir in rosemary and oregano and cook until fragrant, about 1 minute. Add carrots, mushrooms, and bell peppers. Cook, stirring until the carrots are softened, about 6 minutes.
Add broth, tomatoes and their juices, beans, zucchini, and potatoes. Bring to a gentle boil. Reduce heat to medium-low and simmer until the potatoes are tender, about 35 minutes.
Remove from heat. Stir in arugula and 1/2 cup Parmigiano. Let stand until arugula wilts, about 1 minute. Season with S&P to taste.
Ladle into soup bowls and serve hot, with extra olive oil for drizzling and extra Parmigiano passed on the side to add as anyone wishes.
Stay connected with news and updates!
Join our mailing list to receive the latest news and updates from our team. Your information will not be shared.